How Safe Are E-Scooters?
Electric scooters, or e-scooters, have boomed in popularity thanks to companies such as Bird, Lyft and Lime offering convenient and affordable rental options to the public. Unfortunately, this has led to an increase in the number of e-scooter accidents in recent years. The safety of electric scooters has frequently been called into question. Now that more research is available on the subject, riders can better understand the safety issues associated with e-scooters, and can hopefully avoid a personal injury.
E-Scooter Accident Facts and Statistics 
Data from the U.S. Consumer Product Safety Commission shows that injury rates involving e-scooters are increasing. Out of e-scooters, e-bikes and hoverboards, e-scooters had the highest percentage increase in injuries from 2017 to 2021. In this time period, e-scooters were connected to 68 deaths. The top hazards reported by e-scooter users were incidents involving motor vehicles, user-control issues and fires.
One study published in the National Library of Medicine in 2022 surveyed e-scooter riders and asked about their involvement in e-scooter accidents. Of the 210 riders surveyed, 27.6 percent reported having been involved in an e-scooter crash, with 15.2 percent of these accidents resulting in injuries. It found that frequent e-scooter users and male riders both reported higher numbers of e-scooter accidents than others.
Another study conducted by the University of California, Los Angeles found that over a six-year period, the e-scooter crash injury rate in L.A. – 115 injuries per 1 million e-scooter trips – exceeded the national rates for motorcycles (104), bicycles (15), passenger cars (8) and pedestrians (2). While the researchers noted that the e-scooter riders' injuries may have been less severe than in other types of accidents, the injury rate is startling.
Common Accident and Injury Risks on E-Scooters
Many first-time e-scooter riders immediately take to public roads and streets – putting themselves at risk of getting into serious accidents. Many do not know how to properly or safely operate e-scooters or maneuver them out of harm's way. Furthermore, e-scooters are lightweight and susceptible to road hazards, such as rocks, pebbles, potholes and cracks, that can "trip" the e-scooter and cause a crash.
The list of risk factors that can lead to e-scooter-related accidents includes:
Inexperienced riders

Riding on sidewalks and non-paved surfaces

Road surface hazards or defects

Heavy traffic or activity

Fear of encountering motor vehicles

Loss of balance on the e-scooter

Riding under the influence

Defective e-scooter

Part or equipment malfunction

Sudden, unwanted braking

Dangerous weather
Statistically, some of the most frequently cited injuries in e-scooter accidents are soft-tissue injuries, bruises, contusions, lacerations, abrasions, orthopedic injury, broken bones, dental injury, traumatic brain injuries and concussions. Even an e-scooter accident that does not involve another motor vehicle could cause serious injuries to the rider.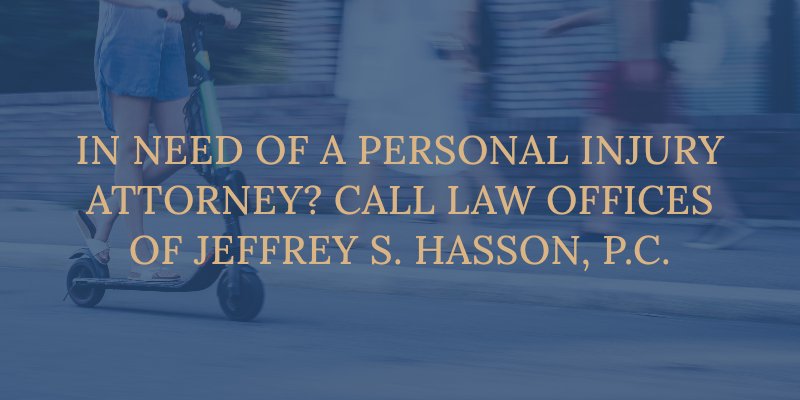 Tips for Staying Safe on an E-Scooter
If you decide to ride an electric scooter in New Jersey, understand the controls and make sure you feel comfortable on the scooter. If you have never ridden one before, take time to practice somewhere away from motor vehicles, such as an empty parking lot. Do your best to avoid riding on busy streets and places with heavy traffic.
While on an e-scooter, obey roadway rules. Ride your e-scooter in the same direction as traffic and obey all stop signs, speed limits and traffic lights. Yield the right-of-way to others, when required. When you can, ride in a bicycle lane. Studies have found that riding more frequently in bike lanes (more than 25 percent of the time) can protect e-scooter riders from accidents.
Finally, wear a helmet. You may not always be able to prevent an accident – especially when sharing the road with negligent drivers. Prepare for the worst by always wearing a helmet. If you crash, your helmet may protect you from suffering a severe head or brain injury. If you get into an e-scooter accident with injuries, our attorneys at The Law Offices of Jeffrey S. Hasson, P.C. can help.