Newark Personal Injury Attorney
Serious personal injuries impact your life, finances, health, and overall well-being. At the Law Offices of Jeffrey S. Hasson, P.C., our Newark personal injury attorneys want to help you face the aftermath of your accident and move forward with your life. We will meet with you at no cost and offer valuable advice regarding your available legal options.
The attorneys at the Law Offices of Jeffrey S. Hasson, P.C. are proven effective at obtaining results for our clients through both negotiations and litigation. Our attorneys are:
Results-driven client advocates;
Experienced and knowledgeable in all areas of personal injury law; and
Known and respected in the legal community.
Let our personal injury lawyers focus on your legal claim so you can put your energy into healing. We have the resources to take on the most complex personal injury cases and the largest insurance companies. Call the Law Offices of Jeffrey S. Hasson, P.C. today and schedule your complimentary claim review.
Newark Personal Injury Legal Resources:
Why Choose Us?
Obtaining full and fair compensation for personal injuries is not an easy task. Preparing a comprehensive claim for damages takes time, manpower, money, and persistence. Additionally, some legal deadlines and procedures need following to ensure a personal injury claim does not expire.
At the Law Offices of Jeffrey S. Hasson, P.C., our New Jersey personal injury attorneys work tirelessly dealing with all aspects of your personal injury claim while building a trial-ready case on your behalf. This process includes, but is not limited to:
Investigating the accident scene;
Reviewing available accident reports;
Gathering evidence and interviewing witnesses;
Determining liability and filing insurance claims;
Filing timely court documents;
Hiring needed experts;
Assessing your total losses;
Negotiating a full and fair settlement with the insurance company; or
Taking your case to trial.
Contact the Law Offices of Jeffrey S. Hasson, P.C. now to discuss the claims process and for answers to your case-specific questions. There is no risk to meet with our attorneys, as we work on a contingency fee basis. This means we collect fees only when we win compensation on your behalf.
What is a Personal Injury?
A personal injury is not another name for a physical injury. A personal injury is any injury a person sustains physically, emotionally, or mentally. Personal injury claims are civil claims arising from personal injuries.
Personal injury claims are demands for money damages an injured party files against a negligent person, business, government, or entity.
What Compensation can Victims Recover After a Personal Injury?
A personal injury claim covers both injuries and property damage when appropriate. For example, in a car accident claim, car repair or replacement is part of the damages claim.
Typical damages in a personal injury claim are:
Lost wages;
Loss of future income;
Medical bills both current and future;
Psychological counseling;
Property damage;
Loss of enjoyment of life; and
Wrongful death expenses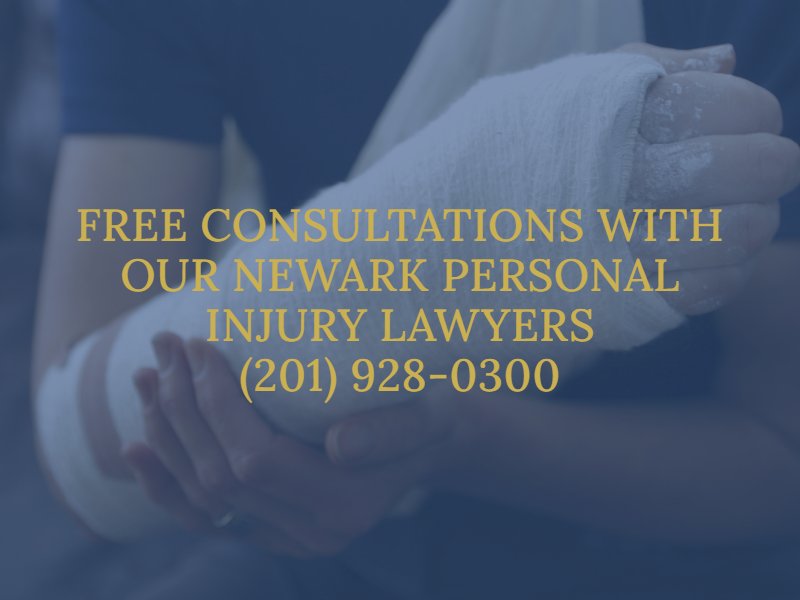 What is a Catastrophic Personal Injury?
Medical bills in a personal injury claim cover all accident-related medical expenses both present and in the future. This is extremely important when a victim suffers catastrophic or life-changing injuries and needs long-term care.
Examples of catastrophic personal injuries are as follows:
Amputation;
Disfiguring burns;
Paralysis; and
What are Common Causes of Personal Injury Claims?
The following types of personal injury accidents have the potential to cause catastrophic injuries:
Truck accidents;
Slip and fall accidents; and
Medical malpractice.
Whether you suffered injuries in one of these or another personal injury accident, our Newark personal injury attorneys can answer your questions about compensation, filing deadlines, or recovering justice on behalf of a loved one.
What Steps Should I Take After a Car Accident in Newark?
A car accident can be a life changing experience, but taking these steps can help to ensure your safety and start building your personal injury case claim so that you can get the compensation you deserve. 
Move out of the way of harm if possible to avoid further injury. For instance, if you suffer a slip and fall, try to move out of the way of the spill without disturbing the scene. 

Check yourself for potential injuries. It is a good idea to examine your extremities checking for pain, numbness and tingling. You should also check to see if anyone else is injured as well. 

Report the accident to the authorities and any responsible parties involved. This may include the police, store managers, even property owners or your employer depending on the situation. 

Try to document the scene. Take pictures, collect evidence and statements if possible and catalog the situation and series of events that lead up to your accident to try and establish causality. 

Visit your doctor. Explain the incident, get medical records and have them record the extent of your injuries immediately after the accident with as much documentation as possible. 

Report the incident to your insurance company to start the claims process. This will help verify the series of events and speed up the recovery process. 

Get in touch with a personal injury attorney about your case before you move forward. A lawyer will ensure that your legal rights are protected and you are able to seek compensation. 
We know that things can be difficult and confusing right after an accident, but if you follow these steps, you improve the chances of having a powerful case and being able to get the compensation you need to be made whole again. 
What Should I Not Do After a Car Accident?
Knowing the steps to take after your accident is important, but it is equally important to know the things to avoid after your accident so that you don't damage your claim or risk further injury. Do not do any of the following: 
Admit culpability or fault for the accident. This calls into question who is liable for the accident. 

Don't wait to get medical care. Not only do you risk further injury, but timely documentation is vital for your claim after the accident. 

Do not go against doctor's advice or ignore medical advice. Your injuries may be worse than you think and ignoring medical advice can hurt the claims process

Don't forget to document your injuries. Just seeing a doctor is not enough, you need records of everything that occurred and any potential injuries. 

Do not give the insurance company a recorded statement about the accident until speaking with legal counsel. 

Do not post about your accident on social media. This can be used against you when your claim goes to court. 

Do not forget to pay attention to deadlines, particularly those to file a claim or you may miss your chance to acquire any compensation. 

Do not discuss or accept a settlement offer from the defendant or their insurance company. 

Do not try to file a claim without hiring a personal injury attorney to represent you. 
By avoiding these mistakes and hiring one of our personal injury attorney to represent you, it is possible to receive the compensation you deserve after your accident. 
Contact Our Newark Personal Injury Lawyers
At the Law Offices of Jeffrey S. Hasson, P.C., our personal injury attorneys make it a priority to know your goals and preferences before moving forward with your claim. Contact our Essex County attorneys at no cost or obligation today. We want to help you and your family achieve the type of healing you need to move forward with the next chapter of your lives.