Hawthorne Car Accident Lawyer
If you or a loved one was seriously injured or has died as a result of a car accident, contact the Law Offices of Jeffrey S. Hasson, P.C. Our Hawthorne car accident lawyers offer legal advice that is tailored to your unique case that is backed by compassion and decades of legal experience. Established in New Jersey in 1998, the Law Offices of Jeffrey S. Hasson, P.C., has worked to recover millions in compensation through verdicts and settlements for car accident victims.
The Hawthorne car accident attorneys at the Law Offices of Jeffrey S. Hasson are: 
Experienced in all aspects of car accident law 

Passionate about providing quality legal services

Driven to recover the compensation that car accident victims deserve. 
Click or call the Law Offices of Jeffrey S. Hasson P.C. to talk with our caring and compassionate attorneys and determine how we can best assist you in your car accident recovery. You are not alone and we have the legal experience, strategy, and willingness to fight that you need on your side and there's no fee unless we win for you. 
Why Select The Law Offices of Jeffrey S. Hasson P.C.?
After a car accident you need serious legal counsel that is there to help and fight for you. Our New Jersey car accident attorneys have over 90 years of experience dealing with these kinds of cases and are ready to do what it takes to make sure you get the compensation you need and deserve. With decades of experience dealing with insurance companies our firm knows the ins and outs to help maximize compensation for injured victims. 
Additionally our Hawthorne car accident lawyers will be there for you with regular updates that include:
Keeping your claim ready to go to trial

Accurately determining liability and compensation for your claim

Dealing with creditors and insurance companies on your behalf

Preparing and filing documents

Retaining necessary experts

Negotiating and potentially settling your case

If necessary, taking your case to trial
Call the Law Offices of Jeffrey S. Hasson, P.C., at (201) 928-0300 to learn more about how retaining one of our Hawthorne car accident lawyers can benefit you and your claim. We offer free consultations and there are no upfront fees to retain our firm.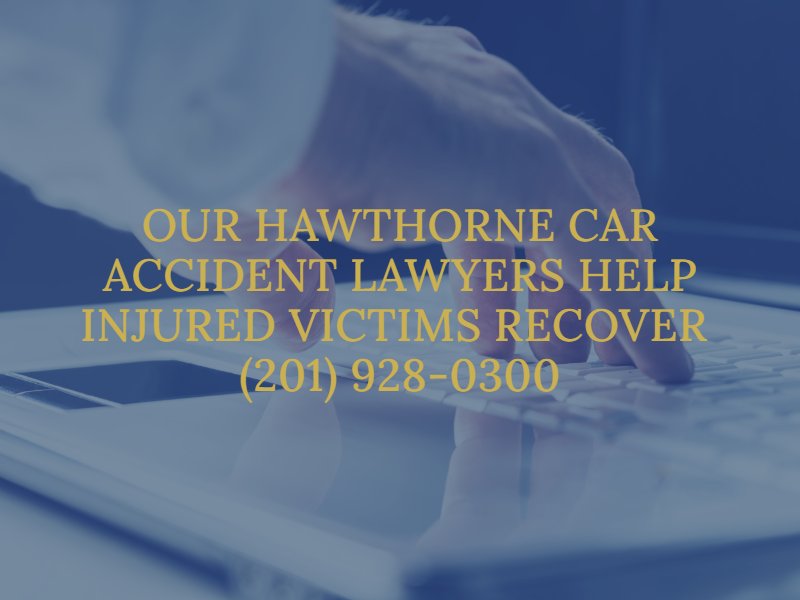 Some Common Causes of Car Accidents
Car accidents cause severe injuries and even death to thousands of innocent people in Hawthorne and throughout New Jersey every single day. One of the primary reasons why these accidents occur is due to distracted driving. Distracted driving occurs any time someone takes their hands, mind, or eyes away from the activity of driving. 
Reasons for distracted driving may include but are not limited to: 
Eating while driving 

Texting or using mobile devices while driving 

Conversing with passengers 

Using GPS devices 

Using personal care products such as hand sanitizer, wipes, or cosmetics while driving
Other causes of automobile accidents include: 
Hazardous road conditions 

Driving too close behind other vehicles 

Driving while intoxicated or under the influence 

Speeding 

Driving while drowsy/tired 

Faulty or damaged vehicle parts 
Contact The Law Offices of Jeffrey S. Hasson
If you or a loved one are involved in a car accident, then time is of the essence. Don't wait, contact our New Jersey personal injury attorneys today. Our experienced firm is here to assist victims and their loved ones in recovering compensation. Free consultations are available via our online contact form.