Elizabeth Personal Injury Lawyer
If you or a loved one suffered severe injuries in an accident, call the Elizabeth personal injury lawyers at the Law Offices of Jeffrey S. Hasson, P.C. We will meet with you to discuss your legal options for holding any at-fault parties responsible for your injuries and getting the compensation you need to replace lost wages and pay for medical care.
Our personal injury attorneys are more than legal advocates. We are:
Successful in securing millions for injured victims;
Aggressive defenders and litigators; and
Recognized and respected in the legal community.
Let the Law Offices of Jeffrey S. Hasson, P.C. provide you with the legal relief, closure, and justice you deserve so you can focus on healing.
Elizabeth, NJ Injury Resources:
Why Choose Us?
New Jersey personal injury laws are complex, and dealing with the insurance company can get complicated and confusing quickly. Do not try to represent yourself in your personal injury claim. Much more goes into pursuing a reliable personal injury case than you may realize.
At the Law Offices of Jeffrey S. Hasson, P.C., we will answer your legal questions and explain your rights as the victim of a personal injury. We will also explain the personal injury process to you, stand beside you, and keep you updated throughout your claim. We will build your case in the following ways:
Investigating your accident;
Collecting relevant evidence and speaking to witnesses;
Assessing the total value of your claim;
Identifying all sources of compensation;
Handling all insurance company correspondence;
Communicating with creditors;
Meeting all legal deadlines;
Hiring needed experts;
Negotiating with the insurance company(s); and
If necessary, preparing your case for trial.
Contact the Law Offices of Jeffrey S. Hasson, P.C. to set up your free claim assessment. Our personal injury attorneys will listen to the facts of your case and offer you sound advice to put your mind at ease.
Why File a Personal Injury Claim?
Personal injury claims are civil lawsuits filed against another person, business, government, or other entity. Usually, the claim is filed against and paid by the person's or entity's insurance company. Personal injury claims are intended to compensate victims for damages caused by the negligence or recklessness of another.
There are many reasons victims file personal injury claims, and not all are monetary. Victims file personal injury claims to provide them with a sense of justice and hold negligent parties responsible for their actions. Personal injury claims also serve to give victims closure to a chapter in their lives.
What Compensation Can Victims of Personal Injury Recover?
The compensation victims receive in personal injury claims is intended to pay for accident-related losses and expenses both past and future. Types of compensation victims request include the following:
Medical bills;
Rehabilitation;
Occupational therapy;
Lost wages;
Loss of future income;
Psychological counseling;
 Pain and suffering;
Loss of enjoyment of life; and
Wrongful death expenses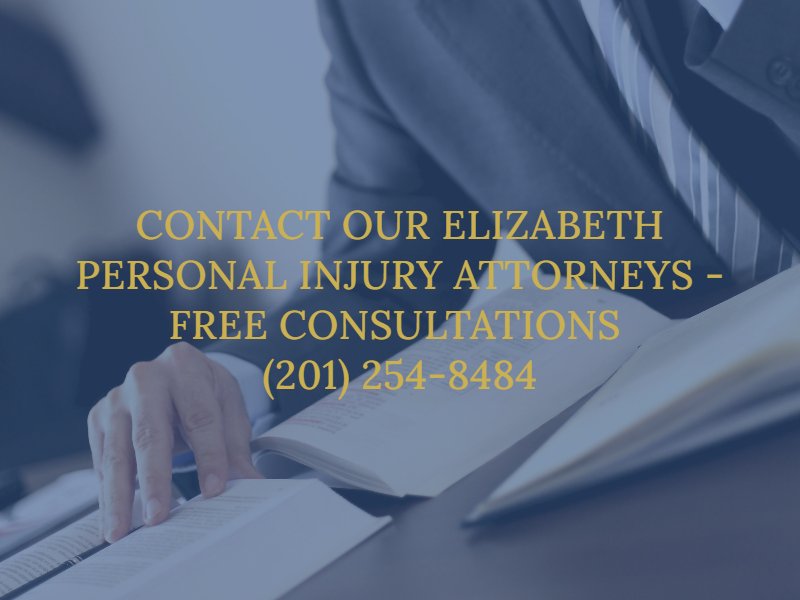 How Do Personal Injury Attorneys Prove Liability in a PI Case?
To succeed in a personal injury claim, the victim or their attorney must prove negligence on behalf of the other person or entity. This is the most challenging part of a personal injury case.
Proving negligence requires showing:
The at-fault party owed the victim a duty of care;
The at-fault party breached that duty of care;
That breach resulted in the victim's injuries; and
The victim has actual damages.
The victim must have damages to pursue a personal injury claim.
What are Common Types of Personal Injury Accidents?
Personal injury claims arise from personal injury accidents. Some common personal injury accidents in Elizabeth are:
Car accidents;
Truck accidents;
Slip and fall accidents;
Medical malpractice; and
Wrongful death.
Not every accident qualifies as a personal injury accident. Therefore, it is best to consult an experienced Elizabeth personal injury lawyer, like those at the Law Offices of Jeffrey S. Hasson, P.C. to discuss the details of your accident.
What Is the Time Limit to File an Injury Claim in Elizabeth, NJ?
State law in New Jersey does not give plaintiffs an unlimited amount of time in which to file personal injury cases. A law known as the statute of limitations imposes a deadline of two years from the date of the accident to file a claim, in most cases. With only rare exceptions to this rule, you must file within two years or forfeit the right to hold a defendant accountable. The courts are not lenient with enforcing this statute. It is imperative to contact a personal injury lawyer in New Jersey as soon as possible to avoid missing your deadline.
A few exceptions to the time limit in New Jersey could give you more or less time to file, however, depending on your case:
Delayed injury discovery – If something led you to discover your injury after the fact, such as a

foreign object left inside of your body cavity

that you don't discover until years after your surgery, you have two years from the date of discovery (or the date that a reasonable person would have discovered the injury) to file.

An injured minor. If the person wishing to seek financial compensation is a minor under the age of 18, the victim has two years from his or her 18

th

birthday to file rather than the clock starting on the day of the accident.

A wrongful death claim –

 If a loved one passes away due to the negligence of another person and you wish to bring a wrongful death claim in New Jersey, you have two years from the date of death rather than the date of the accident to file the forms.

A claim brought against the government –  If the negligent party that you are trying to hold accountable is a government agency, New Jersey law shortens the statute of limitations to only 90 days from the date of the accident.
In general, you have two years from the date of any type of accident – a car crash, slip and fall, medical malpractice, dog attack, etc. – to file a personal injury claim in New Jersey. However, you may have a unique case with a different statute of limitations based on the circumstances. It is important to contact a lawyer right away after you get injured in Elizabeth. Prompt filing can help you avoid missing your deadline and losing the right to recover.
How Can a New Jersey Injury Attorney Help?
You don't have to go through a claim alone after suffering a major injury in Elizabeth, New Jersey. Hiring a personal injury lawyer to represent you can take away the confusing legal legwork of your claim by putting it in the hands of an experienced and knowledgeable attorney. This can allow you to focus on what matters – like spending time with your family and healing with less stress. 
An attorney can help you in many ways during different stages of your case, including:
Accident investigation –  Returning to the scene of your accident, determining the defendant, interviewing witnesses, collecting evidence and building a strong foundation for your case.
Case filing –  Filling out the necessary forms – which are lengthy and can be confusing – and filing them with the correct courthouse in your county before the deadline.
Insurance negotiations – Taking over communications and settlement negotiations with an insurance company to prevent an insurer from taking advantage of you.
Trial litigation –  Representing you before a judge and jury at a personal injury court case in Union County, if necessary.
Hiring a lawyer improves your chances of obtaining the financial compensation that you and your family deserve. A just case result can help you move forward with greater peace of mind about your future. Most importantly, you can dedicate your energy to restoring and rebuilding your life while a skilled personal injury lawyer takes care of the rest of your case.
Contact Us
If you have a personal injury claim, the Law Offices of Jeffrey S. Hasson, P.C. will create a case strategy with your goals in mind. Contact our offices today to take advantage of your free claim evaluation. There are no upfront legal fees or expenses, and we only collect payment when we win your claim.