Elizabeth Car Accident Lawyer
After a severe car accident, you may face doctor's appointments, time off of work, vehicle repairs, or even worse, the death of a loved one. If the pressure of medical bills, injuries, and loss of employment is weighing you down, call the Law Offices of Jeffrey S. Hasson, P.C. Our Elizabeth car accident lawyer will give you the valuable advice and guidance needed to move forward with your life.
At the Law Offices of Jeffrey S. Hasson, P.C., our attorneys take the stress off of you while fighting aggressively for closure and justice on your behalf. Do not settle for less compensation than you need and deserve. The car accident attorneys at our law firm are:
Successful and experienced in obtaining verdicts and settlements for our clients;
Respected and known for excellence in the legal community; and
Compassionate and driven advocates of car crash victims.
We are tireless advocates for our clients. Call us for your free claim consultation today. The sooner you start your claim, the faster we can recover compensation for you.
Let Our Elizabeth Car Accident Attorneys Help You
When you retain the Law Offices of Jeffrey S. Hasson, P.C., you get a full-service law firm. This means we handle your car accident claim from start to finish while keeping you informed throughout the claims process.
Our skilled Elizabeth car accident attorneys will do the following, and more, on your behalf:
Manage all insurance company correspondence;
Advise creditors of your pending claim;
Thoroughly investigate your accident;
Hire and consult with needed experts;
Assess and value your total losses;
Negotiate a settlement with the insurance company(s); and
Take your case to trial when necessary.
Before taking any steps with the insurance company, contact our legal team. There is no risk to speak with our attorneys. Your claim review is free, and there are no upfront costs or fees.
What are Common Causes of Car Crashes?
Human error causes most car accidents. Regardless of driver safety precautions, people make mistakes, ignore traffic laws, and drive when inappropriate. The most cited reason for car collisions in the United States is distracted driving. No matter what caused your accident, it's recommended to speak with an Elizabeth personal injury lawyer to discuss how you can recover compensation.
Distracted driving is driving while focusing on something other than driving. Distracted driving can include driving while:
Texting;
Having an intense conversation within the car;
Using GPS;
Eating;
Reading;
Applying cosmetics;
Discipling children; and
Searching for an object in the car.
Other causes of car accidents are:
Speeding;
Aggressive driving;
Driving under the influence of drugs or alcohol; and
Driving in poor weather conditions.
What are Common Car Accident Injuries?
More than three million people suffer injuries in car crashes each year. Injuries vary according to car crash type and safety equipment available in the vehicles. In any car accident, some of the most severe injuries are head and brain injuries, including traumatic brain injury.
Other car crash injuries can include the following:
Whiplash;
Broken bones and fractures;
Internal organ damage;
Neck and back injuries;
Spinal cord injuries, including paralysis;
Burns; and
Potentially, death.
Even if you feel uninjured after an accident, it is crucial you seek medical care. There are some injuries, including head and brain injuries, that may not appear for days or weeks following an accident.
After receiving medical care, speak with a car accident lawyer in Elizabeth before talking to an insurance adjuster. Making a recorded statement or signing insurance company settlement documents prematurely could preclude you from full compensation for your injuries.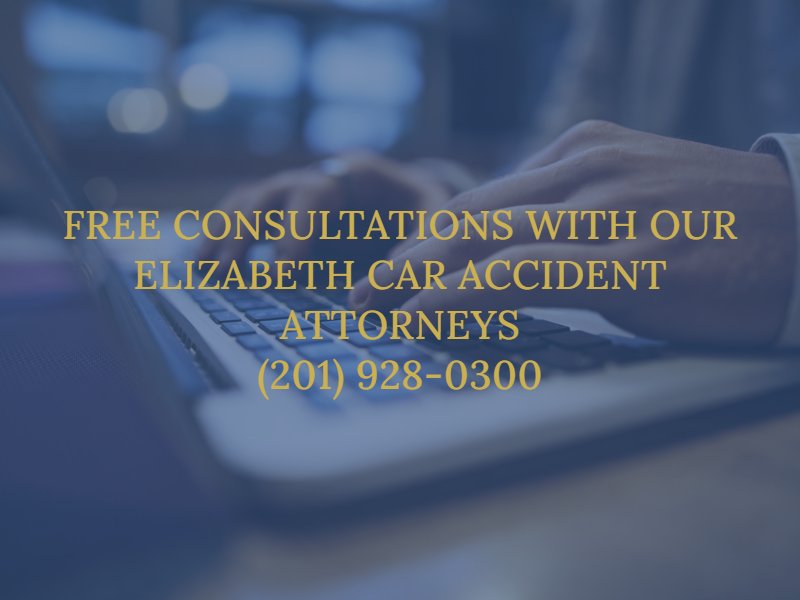 How Does New Jersey's No-Fault Law Work?
All drivers in New Jersey have to purchase a minimum of $15,000 per person and $30,000 per accident in bodily injury liability coverage to pay for another driver's expenses after an accident. However, New Jersey is a no-fault state. This means that, with some exceptions, you must seek compensation from your own insurance company through your mandatory personal injury protection (PIP) insurance.
If you chose Unlimited Right to Sue insurance or you sustained permanent injuries, this can give you the right to file a claim against another driver for causing your car accident outside of the no-fault system. A third-party claim can result in much greater financial compensation than a PIP claim. For example, you may not have the right type of insurance to pay for your property damage. This is why it is important to discuss your case with a car accident attorney before accepting a settlement. Unlike an insurance company, an attorney will not try to take advantage of you.
What Damages Can I Recover After an Auto Accident?
Recovering from a car accident often requires some type of financial compensation to help you pay for your property repairs, medical bills and other expenses. Holding another driver responsible for your automobile accident in Elizabeth – or filing a first-party insurance claim – can result in the monetary recovery that you need to move forward. It is important to know what types of damages are available for your claim so that you don't settle for less than you deserve. You may be entitled to compensation for:
Medical bills – All of the hospital and health care expenses associated with your car accident, including appointments, surgeries, medications, medical devices, therapies and long-term care. 
Out-of-pocket costs – Any other costs that you had to pay because of the car accident, such as a rental car or legal fees.
Property damage – The price of repairing your damaged vehicle. If your vehicle is totaled, this will be the full pre-crash value of your vehicle.
Lost wages – Income that you lost from having to take time off of work because of a car accident, as well as future lost earnings due to a disability.
Pain and suffering – Some car accident cases pay victims for their physical pain, emotional suffering and psychological trauma.
Punitive damages – Punitive or exemplary damages may be awarded to punish a defendant for gross negligence or especially wrongful acts.
If you are curious about the value of your car accident claim in New Jersey, consult with an attorney. You can trust the case evaluation that you receive from a lawyer to be honest and accurate, as your lawyer won't get paid unless you do. After determining the value of your case, a lawyer can help you search for sources of insurance coverage and navigate New Jersey's no-fault law. With a lawyer by your side, you can trust that you are getting the best possible case results.
How Much Time Do I Have to File a Car Accident Claim in New Jersey?
It is important to act quickly if you get injured in a car accident in Elizabeth and wish to file a claim. New Jersey has a law called the statute of limitations (New Jersey Statutes Section 2A:14-2) that places a strict deadline on the ability to bring a cause of action. This law states that actions for all injuries caused by the wrongful act, neglect or default of another person must be commenced within two years.
The statute of limitations does not have many exceptions. The courts will not bend the rules for just any reason. This is why it is essential to contact a car accident lawyer in Elizabeth as soon as you can about a potential claim. If you wait too long and try to file a lawsuit after your time limit has already expired, expect an unsuccessful case.
Contact an Elizabeth Car Accident Attorney Today
At the Law Offices of Jeffrey S. Hasson, P.C., our car accident attorneys can ensure you have the knowledge you need before making any settlement decisions. We will review your legal options with you at no charge and fight to keep the insurance company from taking advantage of your situation. Call or contact us online for your consultation.