Clifton Personal Injury Attorney
If you or your loved one suffered a severe injury, through no fault of your own, turn to the Law Offices of Jeffrey S. Hasson, P.C. Our Clifton personal injury attorneys will defend your legal rights while treating you with the dignity, respect, and compassion you deserve.
A serious accident or injury can leave you overwhelmed physically, personally, and financially. At the Law Offices of Jeffrey S. Hasson, P.C., we have the resources and experience needed to help you fully recover the compensation and justice you need to heal and move forward with your life.
Our New Jersey personal injury attorneys are:
Recognized for excellence in the legal community;
Successful in acquiring millions for our clients in verdicts and settlements; and
Possessed of more than ninety years of combined experience.
Contact the Law Offices of Jeffrey S. Hasson, P.C. for answers to your tough legal questions. Your personal injury consultation is free and confidential, so do not hesitate to call today.
Clifton, NJ Personal Injury Legal Resources:
Why Choose Us?
Selecting the right attorney for your personal injury case is an important step in your recovery. You should be able to trust your lawyer with your case based on his or her past experience, reputation and results. Clients choose Jeffrey S. Hasson and his team for many reasons, including:
Experience. With almost a century of combined legal experience, our lawyers are prepared to overcome any challenges that may arise during your personal injury case. 

Results. Since our law firm's foundation in 1998, we've successfully recovered

millions of dollars

in settlements and verdicts for our clients. This includes multiple seven-figure results.

Affordability. Our personal injury lawyers take cases on a contingency fee basis. This means you won't pay us anything in legal fees unless we secure financial compensation for your losses.
We have earned a reputation in New Jersey for our exceptional legal services and real results. Our attorneys are prepared to go to trial for you, if necessary, to demand justice and the financial compensation that you deserve. 
Should I Hire a Personal Injury Lawyer?
At the Law Offices of Jeffrey S. Hasson, P.C., we are a client-focused law firm. This means we listen to you, address your needs, and keep the lines of communication open. We are your ally and stand beside you throughout your personal injury claim.
The injury attorneys at the Law Offices of Jeffrey S. Hasson, P.C. develop a legal strategy specific to your claim. We then aggressively pursue justice and compensation on your behalf. This includes:
Handling all communication with the insurance company;
Replying to creditors on your behalf;
Investigating your accident and collecting evidence;
Identifying liable parties and sources of compensation;
Documenting and evaluating your losses;
Hiring needed experts;
Calculating an appropriate claim value; and
Settling your claim; or
If appropriate, proceeding to litigation.
The Law Offices of Jeffrey S. Hasson, P.C. do not charge legal fees until we win your claim, and there are no upfront costs for representation. Speak with one of our personal injury attorneys today to learn more about retaining our services.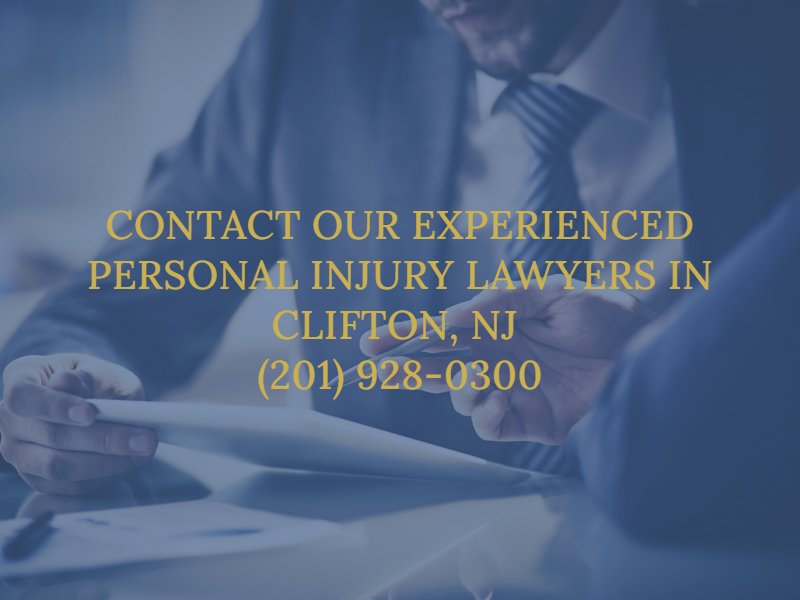 What is a Personal Injury Claim?
A personal injury occurs when the act or omission of one person or entity causes damage to another person. The person or entity at fault for the injury may be an individual, company, organization, or governmental body.
Personal injury accidents come in a variety of forms, including, but not limited to:
Truck accidents;
Motorcycle accidents;
Slip and fall accidents;
Dog bites;
Medical malpractice; and
Common Injuries
Severe personal injuries resulting from these accidents may include:
Head and brain injuries, including traumatic brain injury;
Back and spinal injuries, including paralysis;
Internal organ damage;
Nerve damage;
Amputation;
Disfigurement;
Burns;
Scarring; and
Death.
What Is The Statute of Limitations To File a PI Claim in New Jersey?
New Jersey places statutes of limitations or deadlines on filing personal injury claims. For most personal injury claims, the deadline is two years from the date of the injury. To learn the deadline for filing your claim, contact the Law Offices of Jeffrey S. Hasson, P.C.
What Compensation Can Victims Recover After a Personal Injury?
Compensation amounts in personal injury claims depend on the type and severity of the victim's injuries, their prognosis for recovery, and the effect on their overall quality of life. For example, serious and catastrophic injuries are typically worth more than minor injuries due to the extent of the damage and the cost of required medical care. Value is something that can only be calculated upon careful analysis of the facts of the case.
The following damages are generally available in a personal injury claim:
All accident-related medical expenses –

 This can include past and future doctor's appointments, specialists, x-rays, medical tests, treatments, surgeries, medications, live-in care, medical devices,

physical therapy and rehabilitation.



Lost wages –

Compensation to reimburse an accident victim for the wages, income and employment benefits he or she lost due to having to take time off of work for an injury. This can include vacation or sick days used.



Loss of future income –

This refers to a loss of earning capacity, meaning how much a victim with a long-term or permanent injury likely would have earned over his or her lifetime were it not for the injury.

Home and vehicle modifications – 

The price of any home and vehicle modifications that are necessary to accommodate a disability caused by the accident.



Other out-of-pocket costs – Payment for any other out-of-pocket costs you had in connection to your accident, such as travel expenses, rental car costs, attorney's fees and court costs.

Pain and suffering – Accident victims can also recover noneconomic damages for pain and suffering, such as physical pain, emotional harm, inconvenience, changes to daily life, lost enjoyment of life, impacts on relationships and psychological trauma.

Exemplary damages – Exemplary damages (also known as punitive damages) are awarded in some personal injury cases involving gross negligence, wanton or willful acts, or intent to harm by the defendant. They serve the purpose of punishing the defendant rather than compensating the plaintiff. 
New Jersey law has specific rules dictating these damages. For example, punitive damages are capped at $350,000 or five times the amount of compensatory damages awarded, whichever is greater. It is prudent to consult an experienced Clifton personal injury attorney about any particular claim to find out how much it might be worth before accepting a settlement from an insurance company.
How Do Attorneys Prove Negligence in a New Jersey Personal Injury Case?
The majority of personal injury cases filed in New Jersey are brought on the legal foundation of negligence. Negligence in civil law is the failure to act in a way that a reasonable and prudent party would have in the same or similar circumstances. 
When an injury claim is brought on the grounds of negligence, a lawyer must establish four main elements of proof as more likely to be true than not true. This burden of proof is called a "preponderance of the evidence," and it must be met by the plaintiff's side of the case. The four elements are:
Duty of care – An obligation owed by the defendant to treat the plaintiff according to the accepted standards of care. An example is the duty of care that all motor vehicle drivers have to their fellow road users to drive prudently and not cause car accidents.
Breach of duty – Any act or omission that falls short of the defendant's duty of care. In the example of a motor vehicle driver, a breach of duty can refer to speeding, texting and driving, or any other dangerous act behind the wheel.
Causation – A causal link between the defendant's breach of the duty and the plaintiff's injuries. The defendant's negligence must be the proximate or actual cause of the injury suffered. In other words, the accident wouldn't have occurred but for the defendant's negligence.
Damages – Losses suffered or sustained by the victim because of the defendant's negligence. These often include property damage, medical bills, lost wages, and pain and suffering.
An attorney will search for all available sources of evidence to support a personal injury case. Evidence of a defendant's negligence could include a police or accident report, eyewitness or expert witness testimony, photographs and videos, medical records and reports, and accident reconstruction. A personal injury law firm will have the staff and resources to conduct a comprehensive investigation of an accident to determine fault and collect evidence. Then, your lawyer can hire qualified experts to establish negligence and strengthen your case. 
Can a Personal Injury Attorney Help Secure Higher Compensation?
Yes. Statistics show that clients who hire personal injury attorneys secure higher financial outcomes – even after subtracting legal fees – than those who represent themselves. This is because insurance companies take attorneys more seriously than unrepresented clients. An attorney will have a history of taking cases to trial and winning. This motivates insurance companies to offer higher settlements to achieve agreements and avoid the costs of court. 
In addition, a lawyer will know proven and aggressive negotiation tactics to use against the insurance claims adjuster assigned to your case. Your lawyer can take over communications with an insurance company on your behalf to protect your best interests and fight for maximum financial compensation. This includes demanding a fair amount in pain and suffering damages for a serious injury.
Should I Accept an Insurance Offer Before Discussing With an Attorney?
No. Insurance companies are known for putting their profits above the well-being of their clients. Insurance companies are businesses that work for profits. This means that you can anticipate an insurance carrier trying to take advantage of you. An insurance provider may even resort to bad-faith tactics to avoid paying you what you are owed – such as denying your claim without a valid reason or offering an inadequate settlement.
Many insurance companies attempt to get claimants to settle for low amounts as quickly as possible by offering fast settlements. They use the fact that victims want to resolve cases right away against them. An insurer may also say that a settlement is the best or final offer. Do not fall for these tactics. Instead, protect your rights by discussing your case with an attorney before rushing into a fast settlement or signing anything.
Once you accept an insurance offer, you cannot reopen your case. After you've signed a waiver of liability, the defendant is released from any further legal responsibility for your injuries. You cannot renegotiate for a higher settlement, even if you discover that your injuries will cost you more than you were originally told. This is why it's critical to double-check that a settlement offer is fair and reasonable with an attorney before signing on the dotted line.
Before you resolve your personal injury case in Clifton with a fast insurance settlement, contact us. Our initial consultations are free and come with no obligation to hire us, so you have nothing to lose – and potentially a lot to gain. Our lawyers will review your case and compare its potential value to what you've been offered by an insurance carrier. If the settlement offer doesn't match the true worth of your claim, we may offer to represent you and go up against the insurer on your behalf for better results.
Contact Us | Free Consultations
There is no reason to face your personal injury insurance claim or potential lawsuit alone. Call the Clifton personal injury lawyers at the Law Offices of Jeffrey S. Hasson, P.C. now to learn about the legal options available. The experienced attorneys have the knowledge, skills, and resources to handle your personal injury claim while you focus on healing.