New Jersey Motorcycle Laws
New Jersey is home to thousands of motorcycle riders. Some are new and others are seasoned, but all must obey New Jersey's motorcycle laws. Violating a motorcycle law can increase the risk of a serious or even deadly motorcycle accident. As the weather warms up and motorcyclists take their bikes out of storage, refresh your knowledge of the state's motorcycle laws.
Special License Needed 
Anyone who wishes to operate a motorcycle in New Jersey must obtain a special operator's license. There are two options: a motorcycle license or an M endorsement on a standard automobile or commercial driver's license. All out-of-state motorcycle licenses are also honored in New Jersey. 
To obtain a motorcycle license or endorsement, you must be at least 17 years old. You must pass a written and vision test. You will start with a motorcycle learner's permit, which is valid for 90 days. With a permit, you can practice by riding with licensed motorcyclists. You must wait at least 20 days to take your motorcycle road test.
An alternative to the road test is completing a Motorcycle Safety Education Program Basic Rider Course. If you attend and complete this three-day course, you can receive a waiver to skip the motorcycle road test. A motorcycle license costs $24 while an M endorsement costs $18.
Helmets Required for All Riders and Passengers
State law in New Jersey requires helmets for all motorcycle riders and their passengers, regardless of age, experience level or insurance coverage. Motorcyclists must wear a Department of Transportation approved helmet, as well as eye protection in the form of glasses, goggles or a shield. The helmet must fit correctly and securely and be equipped with either a neck strap or chin strap. It must also be reflective on both sides. A motorcycle helmet significantly decreases a rider's odds of suffering a traumatic brain injury in an accident.
Motorcycle Insurance Is Mandatory 
All riders must register their motorcycles and show proof of insurance at the time of registration. It is a legal requirement in New Jersey for all motorcycle operators to maintain at least a minimum amount of $15,000 in bodily injury insurance per person, $30,000 per accident and $5,000 for property damage. 
Uninsured and underinsured motorist insurance is also smart to purchase, as this will pay for your own damages in an accident if the other driver is uninsured or it is a hit-and-run motorcycle accident. Purchasing more than the minimum required amount of insurance is the best way to protect yourself in a crash.
Minimum Equipment Requirements
To improve motorcyclist safety, New Jersey requires all motorcycles to possess certain types of equipment. A motorcycle that is operated on a public road must have:  
At least one but no more than two working headlights

Working taillight and brake light

At least one rear reflector

License plate light

At least one mirror affixed to the right or left side of the motorcycle

Working muffler (for off-road use)

Handlebars with handgrips that sit below the rider's shoulder height
To carry a passenger on a motorcycle, the bike must have a designated passenger seat and footrests. New Jersey also requires the use of a daytime running headlight.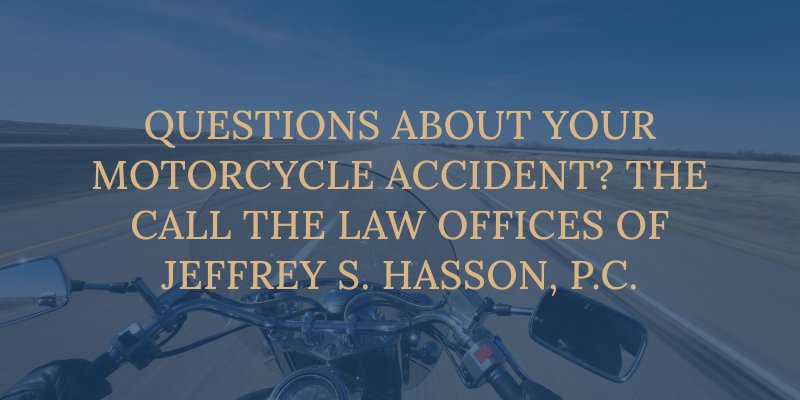 The No-Fault Accident Law Does Not Apply to Motorcycles
New Jersey is a no-fault car accident state, which means that drivers typically seek financial benefits from their own insurance providers, regardless of who caused the crash. Motorcyclists, however, are exempt from the no-fault law. They are not covered by personal injury protection insurance. After an accident, a motorcyclist can bring a claim against the driver that caused the crash. For assistance pursuing compensation for a recent motorcycle crash in New Jersey, contact the Law Offices of Jeffrey S. Hasson, P.C. for a free case consultation.